If you are a writer and are planning on writing a novel then this blog is going to be very helpful for you because we are going to tell you how to storyboard your novel with future characters and events and the entire storyline.
Being a creative writer is difficult enough but novel creation can be a whole new level of challenge and if you do it without a storyboard then it is going to be even more challenging.
That is why a writer's storyboard is a great tool whether it is a written storyboard or a digital storyboard, with or without graphic art skills.
So, let us find out what are the benefits of storyboarding.
WHAT ARE THE BENEFITS OF STORYBOARDING?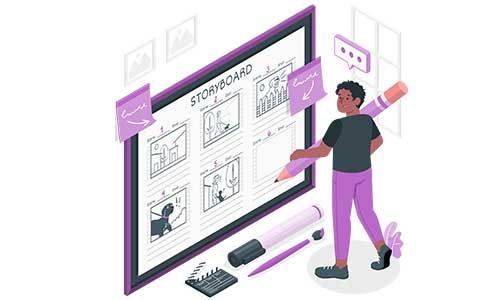 There are a lot of benefits when it comes to storyboarding because storyboarding will help you plot out the entire novel as it will be a visual map of the novel that will have the entire novel from the beginning to the end.
Storyboarding will help you view that map whenever you are writing your novel so that everything can get very visually organised in your mind and it will also help you with chronology and scene creation.
Of course, there are writers that do not do storyboards but if you are starting out novel writing then creating a storyboard will ensure that the novel writing process becomes a lot quicker and you will be able to finish more work in less time without compromising the quality.
It does not matter whether you can draw or not because you simply have to scribble out the ideas and the scenes and having a visual representation is a very easy way to do it.
Storyboarding will also help you to make sure that the pace of the novel is alright and you will also be able to identify flaws in the storyline which you can then rectify.
Now that we know the benefits of storyboarding, let us find out how to create a storyboard.
HOW TO CREATE A STORYBOARD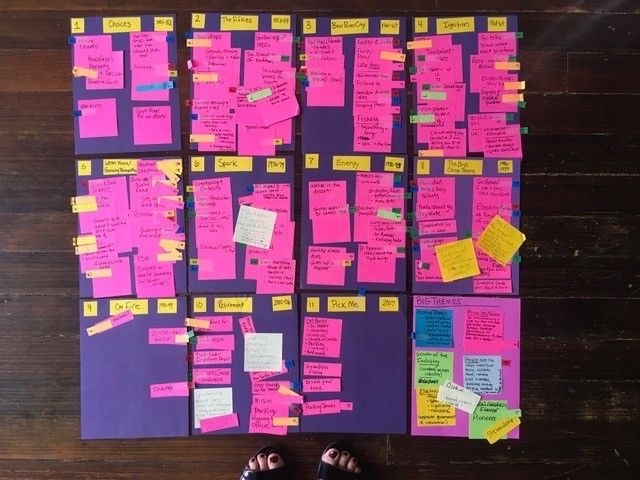 Source: https://shorturl.at/djqER
SUPPLIES
Creating a storyboard is something that is best done without any interruptions and that is why you must make sure that you have everything handy whenever you are starting the storyboard creation.
While you can simply have a notebook and a few pencils, here are some things that will help you create a storyboard that is not only very useful but very detailed.
You will need sticky notes and index cards. You are also going to need a lot of paper so consider buying a bundle of loose paper.
If you can then you must print out comic strip templates. Additionally, chalkboards and dry-erase boards are very helpful. You can also have poster boards if you want.
There is also the option of buying digital software or using storyboard apps where you can do everything that you want to do manually but the digital option is good if you have a tab preferably an iPad.
KEY MOMENTS
Now that you have everything in order you are ready to start your storyboard and you will have to start the storyboard with a very simple process that requires a lot of concentration.
You will have to choose ten important moments in the novel. These should be moments that change the entire course of the novel.
These big moments will act as milestones that will help you determine and break down the novel into easy-to-understand segments.
These moments will help you move the story ahead.
POWER OF THREE
Whenever you are creating the storyboard, you need to think in terms of three because that is going to help you with not only selecting the ten important moments but it will also help you structure the novel properly in your mind.
Each of the ten important moments are going to have three important events that are going to shape that entire segment.
While each segment can have three different types of events but there are going to be at least three important segments.
Let us consider the power of three and help you with an example.
If you have divided your novel into chapters then the first chapter is going to have the protagonist and their normal life.
The second part of the first chapter is going to be about certain events that are going to change the protagonist's life.
The third part of the first chapter can be the reaction of the protagonist to all the events that are changing the protagonist's life.
If you are going to think in terms of three then that is going to simplify things for you but you are free to do anything you want because it is your novel.
We hope this blog has helped you in understanding how storyboarding works and if you are uncomfortable with creating your storyboard manually then you can, of course, utilise storyboard apps and software to do it.
However, if you are someone who simply does not have the time to write the novel then we are here to help you.
We are Ghostwriting India and we go ghostwrite everything from novels to short stories and much more and we are the fastest-growing ghostwriting agency in India.
We have some of the finest ghostwriters in India and some of them are even published novelists themselves.
We would love to finish your novel for you and present you with the exact manifestation of your ideas.